My Overflowing Ashtray Heart
cyber single 2000
"Don't need no one to break me, I can do that on my own"
My personal favourite. From the intro's clanging chimes of dissonance that's bleaker than Blackpool Pleasure Beach on a rainy day in the off season whilst remaining defiantly cheerful in the face of overwhelming odds. Then there's the bass line to die for, the scratchy-whiney guitar and lyrics from desolation alley (the second instance of 'don't need no one to break me' sounds scarily like 'rape me, I can do that on my own' which gives it even more of a kick) and the best title in the world.
Happy Birthday Jesus Christ
Lonely This Christmas MP3.COM charity xmas album put together by our Mark from Lorna. Contains some real wintery gems.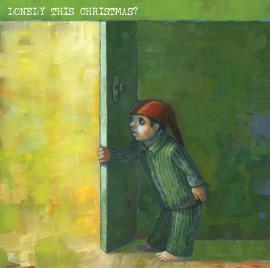 I hate christmas records. Period. Then thirteen came along at once bringing the only snow I saw all xmas. The compilation's a bit of a mixed bag, by definition, but it has benefitted from having been put together according to mood rather than commerciality which is odd since it's for charity, but not odd because it actually does what it says on the tin. The SILVERMAN contribution is an experiment that crosses Lorna with 'Little Drummer Boy' and it takes a few close listens to get used to.
SILVERMANIA
Remix Project 2000 @MP3.COM
Only these two tracks have been remixed and released. Will there be more? Hopefully. Will they be better? Possibly. Silverman having the sound they have makes remixes problematic at best, stupid at worst, but done properly there's no reason Anna can't do a Sarah McLachlan. My money's on 'All My Life' from Archangel. Total soaring beauty.
MAGNIFICENT
remixed by Triptonik
I'm going to coin a new dance genre now- shoegazer trance. The track has been cut down to a single line of lyric backed with a breathey, fluttering track. The butterfly wing chaos theory in sound. Ummm... magnificent?
TIME IS A BLADE (TIAB)
remixed by !Del
This shouldn't work. Initially I thought it was a mess, what were they thinking? Thankfuly, I came round on the next play. The exact opposite of the original, this is a big slice of euphoria cake that just floats you right up into the clouds with a big cheshire cat grin on your face. Stunning.
TRAVEL SICK
Acoustic (unreleased)
"I don't remember saying yes, but he insists I did"
Silverman get all sparse and scary on our ass. Reminiscent of Hüsker Dü's 'Diane' this is so simple and intense it has 'classic' written all over it, I can't really say any more. Seriously disturbing.
LOVING ME
"Your words rush through me"
Another straight foward unplugged ballad of the Anna/guitar/stool school. Lighters out folks.
Sneak (live) preview at now.com
YES I DO CARE
"I'll make my peace soon, sickly and sweet"
You sometimes have to be cruel to be kind and often the object of that cruelty will never understand this and can never be told without unravelling everything again. Easy for some, harder for others, but a hell of a legacy either way.